Can Pets Get or Spread the Coronavirus?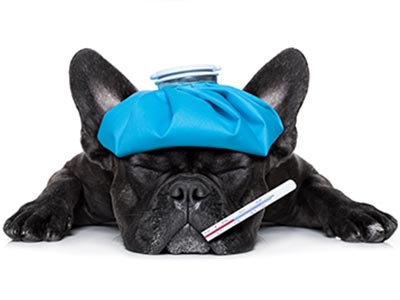 February 18, 2020
With the outbreak of the dangerous 2019-nCOV coronavirus that's ravaging China, you've no doubt seen social media images with dogs wearing face masks. Are they necessary? Can dogs and other pets catch and spread coronavirus? After all, they believe the virus started in bats or snakes.
There's no really clear answer. The World Health Organization (WHO) says, "At present, there is no evidence that companion animals/pets such as dogs or cats can be infected with the new coronavirus."
But, Li Lanjuan, an epidemiologist and representative of China's National Health Commission cautioned pet owners in China to pay close attention to their own health and the health of their pets: "If pets go out and have contact with an infected person, they have the chance to get infected. By then, pets need to be isolated. In addition to people, we should be careful with other mammals, especially pets."
The disease is spreading quickly, and is here in the United States. So what's a pet owner to do? There's not a lot of data yet. Because it's new, scientists know relatively little about the bug, which causes symptoms such as a fever, dry cough, shortness of breath and trouble breathing.
There is no vaccine and no real treatment for this virus.
The Centers for Disease Control (CDC) recommends that people traveling to China avoid animals both alive and dead, but there is no reason to think that any animals or pets in the United States might be a source of infection with this new coronavirus.
But what if you suspect you have the virus? What should you do to protect your pets?
The CDC has the following recommendations:
Don't handle pets or other animals while sick. Although there have not been reports of pets or other animals becoming sick with 2019-nCoV, several types of coronaviruses can cause illness in animals and spread between animals and people.
Until we know more, avoid contact with animals and wear a face mask if you must be around animals or care for a pet.
All sources agree on one thing: It's always a good idea to wash your hands with soap and water after contact with pets to protect against the more common E.coli and Salmonella that can be passed from pets to their owners.
Dogs Get Other Coronaviruses
Dogs are subject to getting other coronaviruses, and one to watch for is CRCoV – Canine Respiratory CoronaVirus. As with other respiratory infections, CRCoV is highly contagious. It's spread by direct dog-to-dog contact, sneezing, coughing, and contact with contaminated environments or people. The virus can also contaminate kennel surfaces, food and water bowls, collars and leashes, and the hands and clothing of people who handle infected dogs.
So, how do you know if your dog has Canine Respiratory CoronaVirus? Most dogs have a mild case that makes them cough, sneeze, and have nasal discharge. The incubation time is unknown, but may be a few days. The symptoms usually resolve in one-to-two weeks, unless the dog gets another type of infection, like pneumonia.
If you suspect your dog has Canine Respiratory CoronaVirus, it's important to isolate them, since it's highly contagious, and to wash all bedding and toys and anything else your dog has come in contact with.
If your dog does develop an upper respiratory infection, pay careful attention and if symptoms get worse, visit your veterinarian.
Enough About Dogs. What About Cats?
Cats, like dogs, other animals and people, can get a coronavirus, the most common being FIP (Feline Infectious Peritonitis).
While there's been no indication that 2019-nCOV has been transmitted to cats. Again, the same thing applies: Wash your hands with soap and water after handling your cat. If your cat develops an upper respiratory infection, keep close watch and visit your veterinarian if symptoms worsen.
Don't Panic!
Does your dog need a face mask? Probably not. And we don't advise trying to get one on a cat! Use common sense, keep an eye on your pets for any signs of respiratory illness, and make an appointment with us if you have any concerns.
Keeping up with routine veterinary care visits is arguably the most important part of responsible pet ownership. Routine veterinary checkups can provide insight into any changes in your pet's health, and give you an opportunity to ask any questions you may have about your dog or cat and their current life stage. If you are unsure of when your pet's last vet visit was, don't have a current vaccination record, or have questions about your pet's health, don't hesitate to contact us at Academy Animal Hospital. We're committed to keeping Greenwood area pets healthy and happy.