New Puppy Needs Attention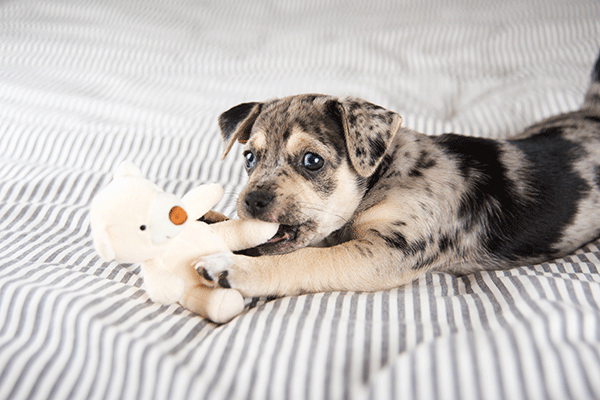 August 28, 2017
Often, new puppy owners worry about finding the right accessories, treats, or bed, but they spend little or no time thinking about how or what they will teach their new puppy.
Here are a few thinks we like to share with owners of new puppies:
Training New Puppies
A puppy is a baby, and new owners are often overwhelmed and concerned with learning the many things necessary for providing proper care. Feeding, housetraining, and chewing are three areas that are important for successfully meeting the needs of your growing puppy.
Feeding
As with people, diet plays a key role in giving your puppy a healthy start and in ensuring your puppy has what he needs to grow. Our puppy feeding tips go over what food is best for your new puppy, why table food isn't recommended, and why you should avoid feeding your puppy any kind of bones.
Housetraining
Patience and consistency will be key when housetraining your puppy and will create an environment that everyone loves and is comfortable in. We highly recommend crate training and creating a scent post to teach your puppy where to go the bathroom.
Our housetraining tips also discuss how to establish a routine for feeding and going to the bathroom, how to best deal with "accidents", and using positive reinforcement as an aid in teaching your puppy proper urine and bowel habits.
Chewing
Chewing is a normal part of "growing up" for dogs, but this behavior is often a big concern for new puppy owners. After all, no one wants all of their possessions chewed up!
To learn the best ways to deal with this puppy phase (and stay sane while doing so), read our tips on how to handle your puppy's chewing habit. We provide guidance in the following areas:
Taking care of your possessions
Properly supervising your puppy
Providing the right care and attention to your puppy
Ensuring your puppy gets exercise, both physically and mentally
Correcting bad behavior
Soothing teething pups
Offering treats in moderation
If you have any specific questions or concerns about your new puppy, please contact us at Academy Animal Hospital, Greenwood, Indiana (317) 881-3125.